Bitcoin's SOPR Ratio Signals Potential Bull Run
June 12, 2023
Bitcoin (BTC) experienced an instantaneous decline in price on June 5 following the announcement of the US Securities and Exchange Commission (SEC) taking legal action against two prominent cryptocurrency exchanges, Binance and Coinbase. Within just 18 hours of the SEC's announcement, the price of BTC dropped from approximately $26,800 to $25,500.
Bitcoin gains traction as on-chain data suggests a strong interest and eventually a bull runhttps://t.co/MMg2lFZTVQ

— crypto.news (@itscrypto_news) June 12, 2023
BTC's SOPR Ratio
However, the broader crypto market saw a recovery the next day, and bitcoin managed to consolidate above the $26,000 threshold until June 10. Despite this temporary rebound, the asset's price hit a local bottom of $25,675 recently as bearish sentiment increased.
The spent output profit ratio (SOPR) of BTC provides insight into market profitability, and it has been consistently above the 1 mark since late March. An analysis by CryptoQuant indicates that the current SOPR position closely resembles the strong bull runs witnessed in 2015 and 2019, during which the SOPR ratio remained above 1 for at least three consecutive months. This analysis suggests the possibility of another steady bull run, especially considering the absence of significant selling pressure at the present price point.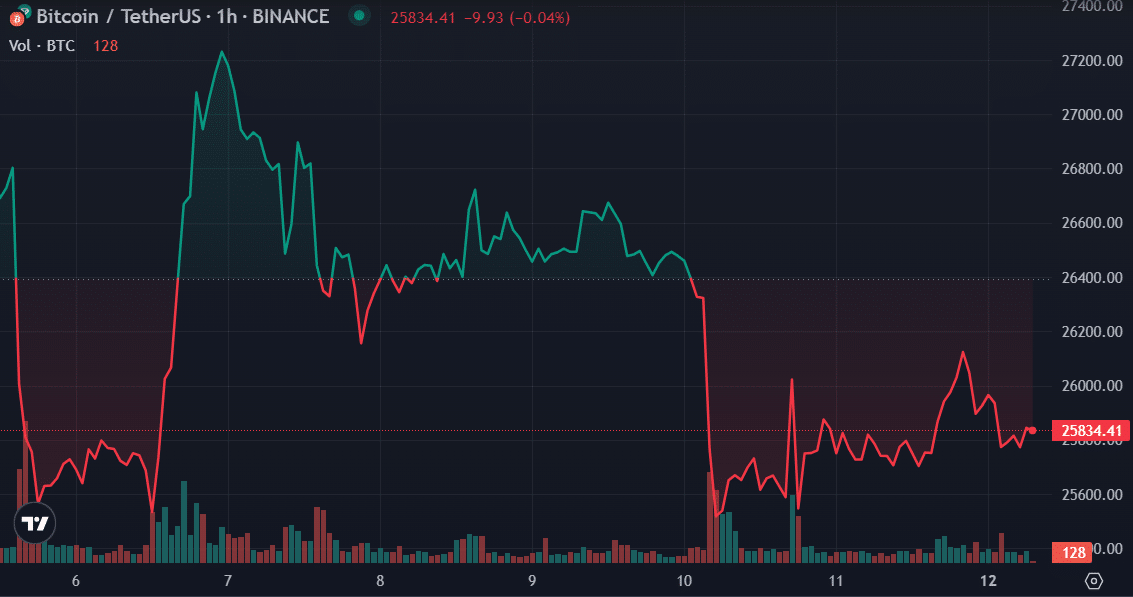 Moreover, on-chain data reveals a growing trend among investors to hold onto their bitcoins, as the number of lost and HODLed coins has now surpassed 7,749,322 BTC, with a total value exceeding $200 billion. This marks a five-year high, indicating a strong inclination to retain the digital asset.
📈 #Bitcoin $BTC Amount of HODLed or Lost Coins just reached a 5-year high of 7,749,322.716 BTC

View metric:https://t.co/dJK8rxBVD3 pic.twitter.com/gqwKo4lUKR

— glassnode alerts (@glassnodealerts) June 12, 2023
Bitcoin Holds Steady
At the time of writing, Bitcoin is up by 0.3% in the past 24 hours and is currently trading at $25,850. However, the 24-hour trading volume has decreased by 21.6% and currently stands at $11.4 billion, suggesting reduced activity on the network.
As the market responds to the legal developments surrounding major exchanges and the fluctuating sentiment, industry participants and analysts will closely monitor Bitcoin's performance and its implications for the wider cryptocurrency ecosystem. The SOPR data and increasing number of HODLed coins provide a glimmer of optimism for potential future price movements, even as trading volumes experience a temporary decline.